PART 4
e) Escherichia coli
It is the cause of a very important poultry disease that is one of the main causes of disease, mortality and economic losses in poultry farms. Also in porciculture causes severe diarrhea after weaning and in newborn piglets.
The susceptibility of E. coli to doxycycline depends highly on the strain. The results of various studies of prevalence of resistance in E. coli isolated in birds vary widely: 70.12% [10]; 58.3% [11]; 16.98% [12]; so it is necessary to perform an antibiogram prior to administration of the antibiotic (see graph 3).
On the other hand, doxycycline has been able to eradicate an outbreak of colisepticemia in a broiler farm [13].

Graph 3.
f) Brachyspira hyodysenteriae
It is the causative agent of swine dysentery, a disease of great importance in the whole world.
80.9% of the isolates in pigs showed intermediate sensitivity to B. hyodysenteriae in samples obtained from clinical cases in Sweden [14]. These data corroborate the results of a study conducted in Poland, where a prevalence of intermediate-resistance sensitivity of 90.5% was observed [15].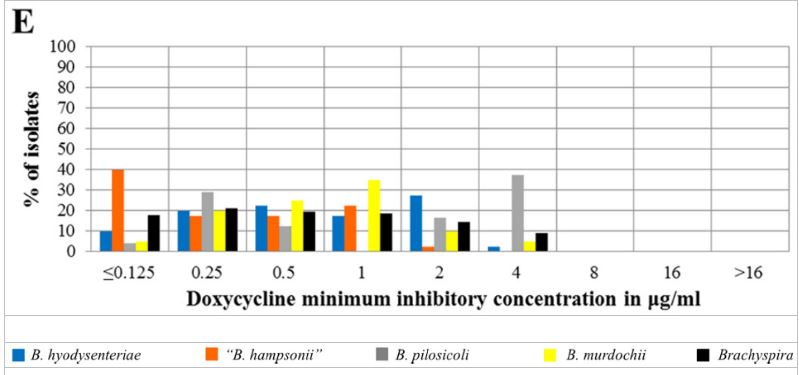 Graph 4. Distribution of the minimum inhibitory concentration (MIC) of different species of Brachyspira (Mirajkar, Davies, and Gebhart 2016).
In contrast, in microorganisms isolated from laying hens no resistance to doxycycline was observed [17].
Summary: Microorganisms that have shown marked resistance
Multiple strains of Salmonella enteritidis and S. indiana obtained from birds demonstrate a high prevalence of resistance to doxycycline, the percentage of resistant microorganisms varies according to the serogroup.

The prevalence of resistance to doxycycline, even in healthy birds, is high. Despite this, the sensitivity in S. gallolyticus isolated from healthy mammals is high.

The percentage of C. perfringens of avian origin resistant to doxycycline is high.

The percentage of E. coli resistant to doxycycline varied widely depending on the strain.

Variation of efficacy according to the species of Brachyspira hyodysenteriae: high percentages of resistance are observed in B. hyodysenteriae of porcine origin, while those of poultry origin prove to be susceptible.
IV. CONCLUSIONS
Doxycycline is an effective antibiotic against a wide variety of infectious agents, whether gram-positive, gram-negative, aerobic or parasite.
The efficacy of this compound on bacteria and mycoplasmas of animal origin is high, as demonstrated against Mycoplasma spp., Brucella and P. multocida.
Despite this, the presence of resistance in different microorganisms (Salmonella, S. gallolyticus, Clostridium, E. coli and Brachyspira) has been observed, depending on the serogroup, strain and species of origin, so it is advisable to perform an antibiogram prior to the administration of the treatment.
BIBLIOGRAPHY
[10] T. Zhang, C. G. Wang, J. C. Lv, R. S. Wang, and X. H. Zhong, "Survey on tetracycline resistance and antibiotic-resistant genotype of avian Escherichia coli in North China.," Poult. Sci., vol. 91, no. 11, pp. 2774–7, 2012.
[11] C. G. Wang, J. C. Lv, and T. Zhang, "Detection of resistance phenotype and genotype of avian Escherichia coli in Hebei Province," pp. 2326–2332, 2009.
[12] H. Momtaz, E. Rahimi, and S. Moshkelani, "Molecular detection of antimicrobial resistance genes in E. Coli isolated from slaughtered commercial chickens in Iran," Vet. Med. (Praha)., vol. 57, no. 4, pp. 193–197, 2012.
[13] R. T. Cristina, I. Schmerold, E. Dumitrescu, L. Cristian, S. Petrovici, and A. Netotea, "Study of Doxicycline Efficacy in Broilers ' Colibacilosis," Anim. Sci. Biotechnol., vol. 43, no. 1, pp. 469–73, 2010.
[14] M. Pringle, A. Landén, H. E. Unnerstad, B. Molander, and B. Bengtsson, "Antimicrobial susceptibility of porcine Brachyspira hyodysenteriae and Brachyspira pilosicoli isolated in Sweden between 1990 and 2010," Acta Vet. Scand., vol. 54, no. 1, p. 54, 2012.
[15] J. Zmudzki, A. Szczotka, A. Nowak, H. Stzelecka, A. Grzesiak, and Z. Pejsak, "Antimicrobial susceptibility of brachyspira hyodysenteriae isolated from 21 Polish farms," Polish Journat Vet. Sci., vol. 15, no. 2, pp. 259–265, 2012.
[16] N. S. Mirajkar, P. R. Davies, and C. J. Gebhart, "Antimicrobial susceptibility patterns of brachyspira species isolated from swine herds in the United States," J. Clin. Microbiol., vol. 54, no. 8, pp. 2109–2119, 2016.
[17] D. S. Jansson and M. Pringle, "Antimicrobial susceptibility of Brachyspira spp. isolated from commercial laying hens and free-living wild mallards (Anas platyrhynchos).," Avian Pathol., vol. 40, no. 4, pp. 387–93, 2011.